In partnership with the Catskill Mountain Foundation
January 18 July 12, 26 August 9, 16, 30 October 4 December 27
and January 17, 2004



All Concerts at 8 PM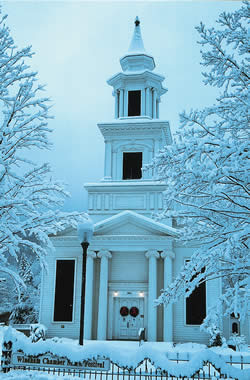 Windham Performing Arts Centre
Photo by Francis X. Driscoll
Once in a lifetime something wonderful happens to a small community: the right people with a bright idea fall in with a new physical opportunity and voila! And that is what is happening to Windham. The town is witnessing the birth of an amazing new music festival, and it's the talk of the town. It's like the beginnings of Tanglewood. The townspeople are excited, the summer visitors are ecstatic, the restaurant owners, hotel keepers, and merchants are overwhelmed at the influx of new faces. Ten years from now, when we look back, we'll be able to say we were there when it all happened.
—The Mountain Eagle, 1999
They [Robert Manno and Magdalena Golczewski] have single-handedly put together a
top-caliber music festival
for this town, and the response has been phenomenal.
—Jim Wooten, Director of Yamaha Artist Services, 2003
Read more about the history and development of the Windham Chamber Music Festival
here
. Help support this exciting concert series—
join
the Windham Chamber Music Festival today!

Nine Saturday Evenings, 8 PM
Historic Windham Civic Center, Main Street, Windham, NY


Windham Chamber Music Festival
740 County Rte 32C
Windham, NY 12496
P: 518-734-3868
E: info@windhammusic.com
Yamaha is the Official Piano of the Windham Chamber Music Festival
.
Concert Recordings by Squires Productions, Elmsford, NY
Layout of this web site is based upon an original print design
by Eleanor Cashman and donated by
Ruder Finn, Inc
.