IL BAROCCO ITALIANO
("THE ITALIAN BAROQUE")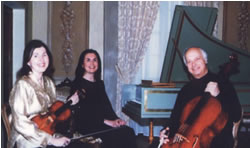 Saturday, October 4 at 8 PM
Tickets: $15 General Admission, $12 Seniors, $10 Students and Members of the Windham Chamber Music Festival, Catskill Mountain Foundation or WMHT/WRHV-FM

Zaida Levin was born in New York City and gave her first public performance in Florence, Italy to excellent reviews. Returning to the United States, she studied with Louis Krasner at Syracuse University, appearing frequently as soloist with the Syracuse Symphony. While living in the Midwest, she performed radio broadcasts with members of the Detroit Symphony and was a founding member of the Baroque ensemble, Ars Musica. Returning East, during post-graduate studies with Ariana Bronne, she married pianist Robert Nathan Levin, and for many years the duo performed the violin and piano repertoire in chamber music series, in music festivals and at many universities. As Artistic Director of the concert Society of Northern Westchester, Zaida organized and performed chamber music concerts with artists from such orchestras as the MET Orchestra, NYC Opera Orchestra and Orpheus, and as a member of the Lumina Quartet, she participated in live broadcasts from Philharmonic Hall.

Anna Flamini was born in Perugia, Italy and graduated with highest honors in pianoforte from the Morlacchi Conservatory of Perugia. She studied conducting at the same conservatory, later majoring in harpsichord. Her repertoire extends from Baroque to contemporary music. She is a founding member of the Artisant Furieux Ensemble, which specializes in contemporary music and has performed at many major contemporary music festivals. Anna has also taken part in radio broadcasts for the RAI (Italian Radio and Television) and has recorded for Edipan, BMG and Areola-Quadrivium.

Pietro Stella graduated from the Morlacchi Conservatory of Perugia where his principal teachers were Enrico Pardini, Pietro Grossi and Vincenzo Altobelli. As principal cellist of the St. Peter of Maiella and the Camerata Musicale of Rome, Pietro participated in tours of Europe, Russia and North America, taking part in numerous radio broadcasts. The Argentinean composer Sergio Callegaris has dedicated a Sonata for Violoncello to Pietro Stella.
Archangelo Corelli:
Sonata #5 for violin and harpsichord
Antonio Lotti:
Trio Sonata in F Major
Antonio Vivaldi:
Sonata #4 in B Minor for cello and harpsichord
Pietro Locatelli:
Trio Sonata Opus 8 No. 10
Il Barocco Italiano
Zaida Levin, violin
Anna Flamini, harpsichord
Pietro Stella, cello