RECENT NEWS
Patchworkers Donate Quilt to Benefit Festival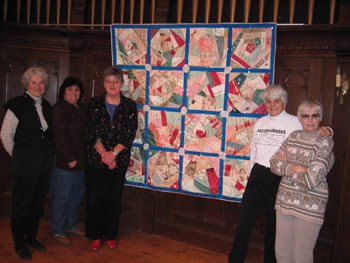 "Rhapsody in Blue," donated by the Patchworkers. From L to R:
Rose Oltmann, Angee Opdyke, Pat Pelham, Betty Verhoeven, Doris
Brooks. Matina Billias, Nettie Brink, Ann Casey, Peggy Fromm,
Maureen Gottschalk, Shirley Lewin, Barbara Mattson, Caroline
Miller, Michelle Rogers, Jeanne Smith, Clara Thompson and Jean
Van Vechten also contributed to the quilt. Sashings by Angee
Opdyke and Pat Pelham, backing by Betty Verhoeven, label by Clara
Thompson, button tying by the Patchworkers. See an .
The Patchworkers of the Northern Catskills have graciously donated a custom-made 100% vintage silk quilt entitled "Rhapsody in Blue" to be raffled off in 2004 to support the Windham Chamber Music Festival.

Tickets are $2.00 each or 3 for $5.00, and will be on sale at all festival concerts. Tickets will also be on sale at the Windham Public Library, Carole's Gift Emporium and the GCCA Mountain Top Gallery. The drawing for the winner of the raffle will take place at the October 2, 2004 Windham Chamber Music Festival concert.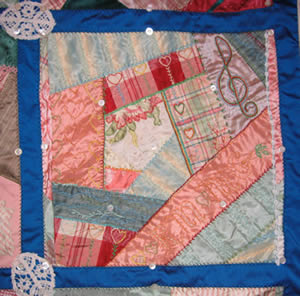 A close-up of one of the quilt's panels, by Shirley Lewin.